They say the devil is in the details but it isn't always clear when restoring a fox Mustang, there's hours upon hours of searching for pictures of clean untouched fox engine bays. Lots of very nice wire tucks and aftermarket fender aprons and such… So here's an amalgamation of pictures I saved from browsing the internet. The engine bays from 86 to 93 are extremely similar, there are a few things to note like rocker covers will either be raw aluminium or painted grey, there are a few differences in the upper intake manifold grey tone (and different cover plates) as well as black or brownish fan shroud, hose clamps, etc…
Engine Block Paint
From 82 to mid or late 92, the engines were painted grey from the bottom up, mainly to protect the oil pan. There will be some grey paint in the front of the engine, most likely a quick shot and overspray. After that they got black  oil pans and the engine block was left without any paint.
[vc_masonry_media_grid element_width="3″ grid_id="vc_gid:1481635746475-516500a1-4ddd-9″ include="233,238,231,232″]
Intake Manifold
The intake cover plates changed from 86 to 87+, raw aluminium and black painted recesses. The upper manifolds were painted a silver "natural finish", and the lowers were raw aluminium. It also looks like the grey colour changed at around 1990 to a darker less natural aluminium finish.
[vc_masonry_media_grid grid_id="vc_gid:1481635746478-15033d56-73ef-6″ include="258,259,260″]
Rocker Covers
From 86 to 88/89 the covers were raw aluminium and the oil fill neck was zinc plated. And somewhere around 89/90 they started to paint the valve covers grey. The 93 Cobra sported the 94/95 HO black stamped valve covers and the Cobra R had an extra "Cobra" logo stamped on it.
[vc_masonry_media_grid grid_id="vc_gid:1481635746480-21274719-ccea-0″ include="264,265,269,266,267″]
Rocker Cover Decals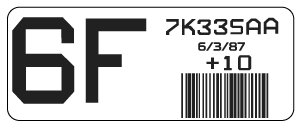 I know the E6-E7 Codes had the label on the oil filler side, right after the first bolt and some had a decal on the back of the cover as well (although I'm not sure what it looked like). I'm providing a trace taken from my own 87 5.0/T5.
This is the cleanest picture of Fox Mustang valve covers I have. It shows the location of the decals but sadly not a lot of details.
Brackets and Hood Latch
Hood latch was oil phosphate coated, without having to resend for coating I found that painting it a flat anodized was pretty close.
Rad support brackets were painted black and I'd argue the bolts were oil phosphate coated.
Front bumper cover brackets were silver, kind of galvanised finish and bolts were yellow zinc plated.
MAP/BAP sensor bracket was oil phosphate coated.
The proportioning valve bracket is yellow zinc coated.
Throttle bracket was a silver / galvanised finish.
Air bag sensor bracket was black and the screws holding it were green.
Oil Phosphate Coated?
Phosphate coating is often used on steel parts in order to provide corrosion protection. Typically, the finish provided by the phosphate coating will be gray to black in appearance. Without having to mess with chemicals, I find that Tremclad's bronze anodized spray paint is a pretty close match.

Wire Harness and Battery Labels
I don't have all the part numbers (yet) but I do have a good idea of what goes where. There may be some variances but overall it seems pretty consistent. Below are some labels that I've managed to redo in Illustrator. Part numbers shown below are for demonstration purposes only! Because they aren't always legible at car shows and their owners probably wouldn't want me to peel them off lol.
This label is on the fuseable link wire that goes to the computer, found behind the coil cover.

This blue-ish grey label is found on the EFI harness on the driver side, near the brake booster. There's a large resistor inside that harness.

The "Made in Mexico" label on the main EFI harness, this should be near the large rubber grommet on the passenger side firewall.
The part number label for the main EFI harness, it goes next to the silver "Made in Mexico" label.

This yellow label is found on the O2 sensor harness, after the connector on the passenger side fender apron.

This large blue label is on the injector harness on the passenger side near the throttle body.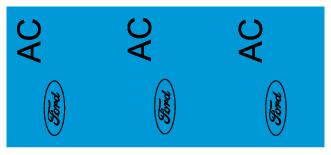 Granted there are probably a lot of variations but here's one at least. This label was placed on top of the battery. Download the PDF here >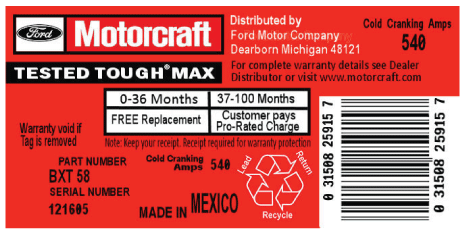 Fan Shroud
There seems to be a lot of variances in here, I couldn't pin point it per production year but there's 2 main differences, either black or a dark redish brown colour. My best guess is there were some black shrouds in 86-87 and again in 92-93. My best guess is they got different additive in the resin when producing these things. The redish brown ones seem to vary in tint as well. I've some very dark ones and lighter ones.

Engine Bay Decals
Thankfully you can buy reproductions of these labels at LMR and other restoration websites. Below will help guide you on the placement.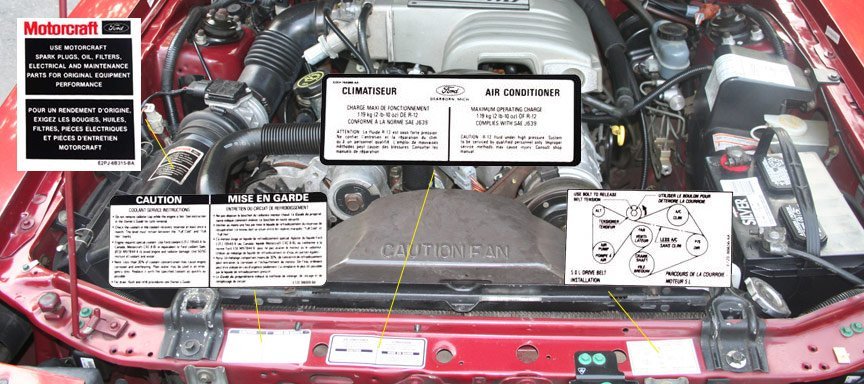 Coil Cover Decals
On the higher level, it will hold the emissions system information and on the lower level, on 90+ cars will have the airbag warning label.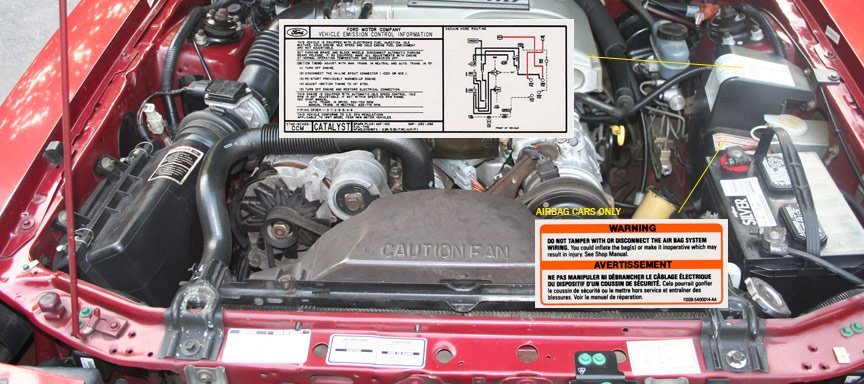 Super Clean Minty Engine Bays
Here's an image gallery of real clean engine bays from 86 to 93. These will be constantly updated so be sure to come back or add yourself to the mailing list.
[vc_masonry_media_grid element_width="2″ grid_id="vc_gid:1481635746496-65c4d089-4425-3″ include="291,292,293,294,295,296,297,298,299,300,301,302,303,304,305,306,307,308,309,310,311,312,313,314,315,316,317,318,319,320″]