It seems most Fox Mustang owners go mental over their cars. They literally eat, sleep and breath foxbody Mustang and Steve is no exception with an obsession even a team of psychologist wouldn't want to touch.
After selling his supercharged 86 GT T-top for a family car, Steve's foxbody urges became too strong to ignore and the hunt for his dream notchback started. Looking for either a white, grey or black 86 or 87 notch for a full YEAR, Steve landed on a low mile black factory 5.0/T5 notch. Spent weeks harassing the seller with messages and texts but ultimately gave up. One day, driving 45 minutes to look at a hatchback alternative, the seller finally contacted Steve and was available. Steve pulled a 180, almost tipping over the lifted Ford Ranger and went off to look at that black notchback. It was obvious to Steve that he HAD to buy this black foxbody! I mean look at it sitting there, waiting for an owner that would actually care!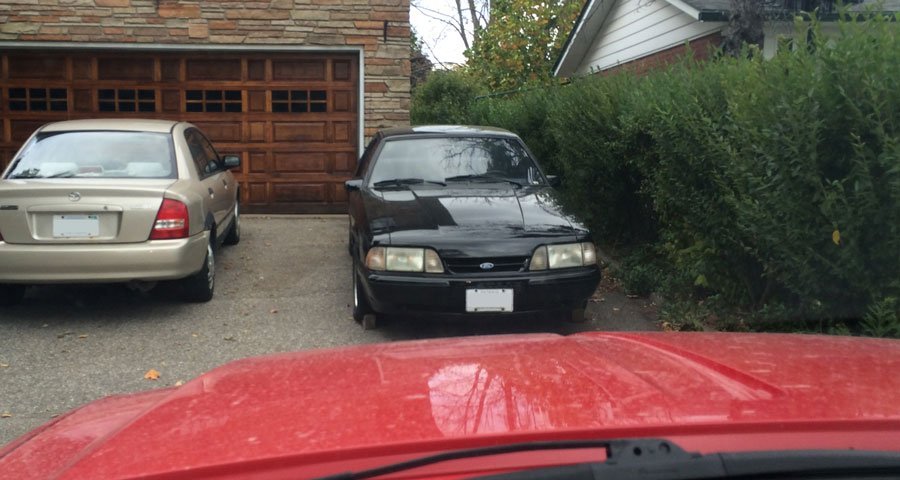 When the 87 Notch Arrived!
It was hard for him to hide his excitement but negotiated a good price since the seller said the engine had a blown head gasket and it couldn't be started. Turns out the head gaskets were fine, Steve knew the brown stuff in the radiator was just rust, not oil. And because the fox sat for over 10 years, the fuel system was pretty much clogged up. It didn't take Steve very long to get it running! The interior was complete but kind of wrecked with stains. It was used to store greasy car parts for over 10 years! Hard to believe but this is a survivor 68,000 mile fox!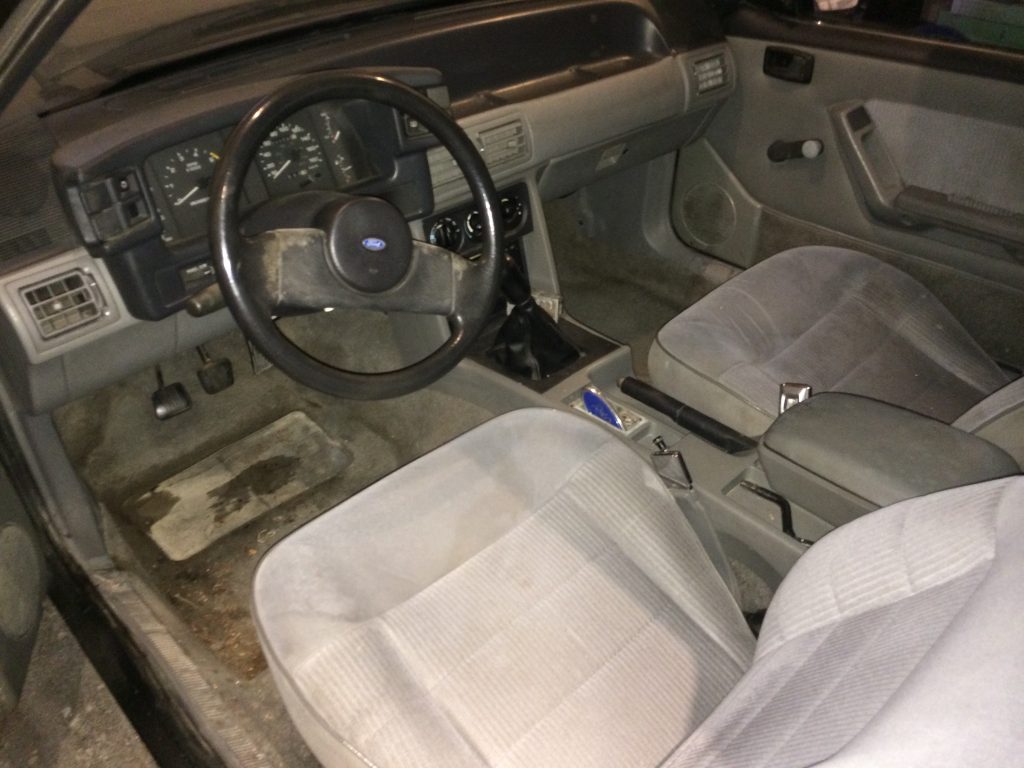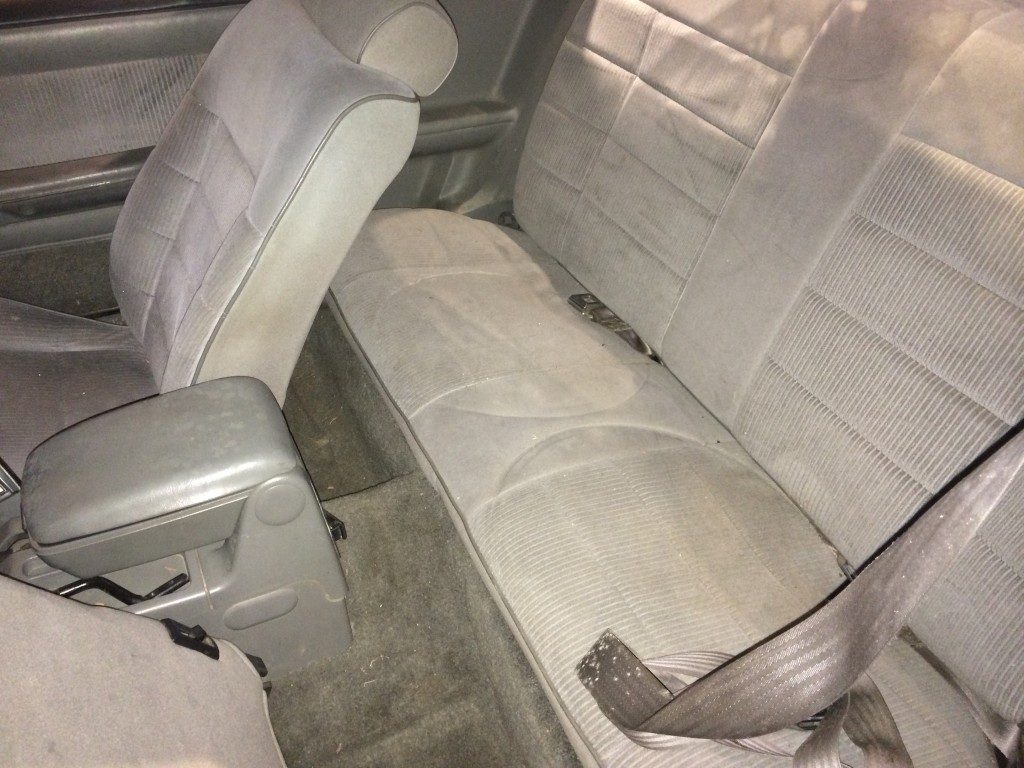 The engine bay was kind of a disaster too, although still pretty complete, it had old yellow waxy rust-proofing and years of neglect.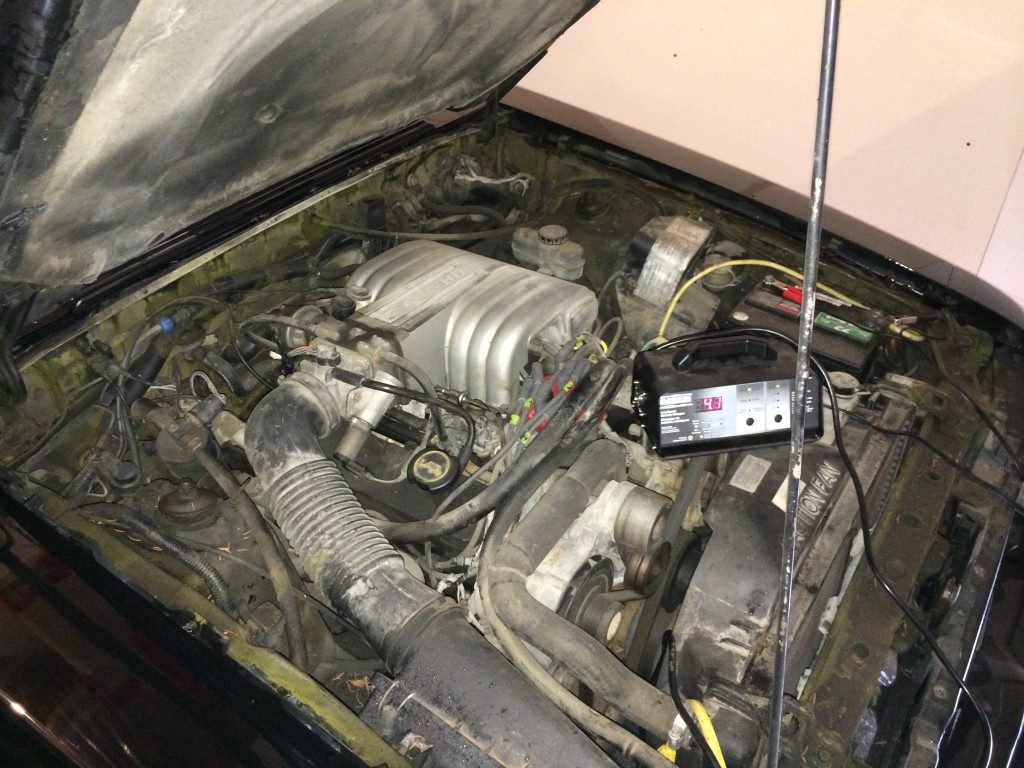 Restoring the Interior
Steve has gutted the interior TWICE. His OCD drives him mad when there's a tiny defect or something he doesn't like. The first iteration was a black conversion but Steve didn't like the large pony emblem (covering a burn mark on the dash) and a few other minor details exaggerated by his Mustang obsession.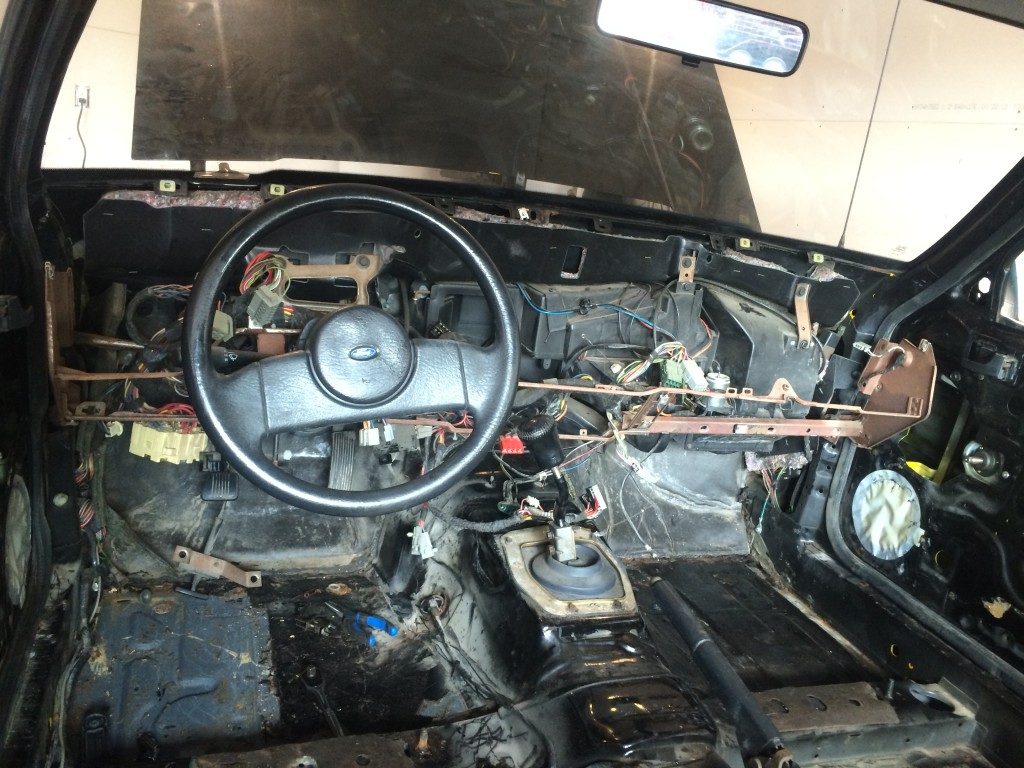 During the first interior, Steve found some rust but made quick work of it. Removing the bad parts and MIG welding in new sheet metal, grinded up and painted – looks like it never had to be repaired and that's how it should be!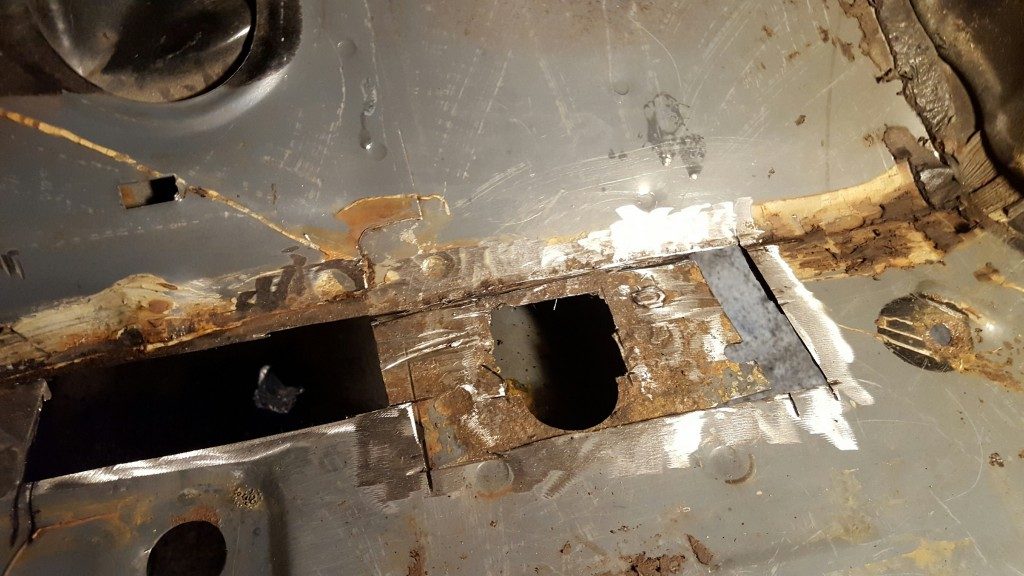 Here's a pic of the custom black interior. Steve didn't like the LX seats, the custom radio delete, the pony emblem and door panels.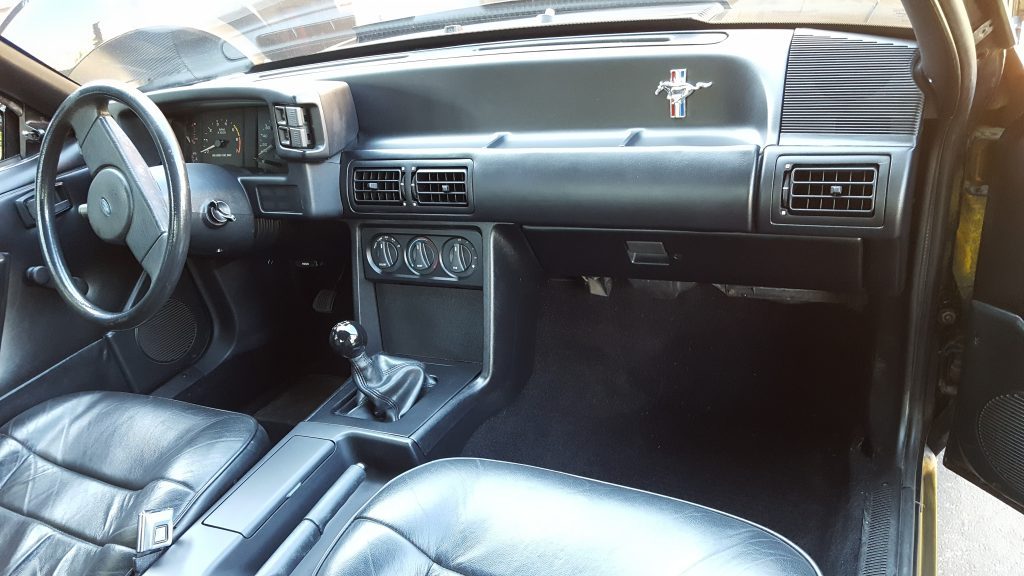 So it was gutted AGAIN, and Steve spent 5 months scavenging good clean parts and saving up for a lot of new restoration pieces, the final result is a very clean, minty Smoke Grey interior with the optional sport seats and custom upholstery done to them as well as matching panel inserts. Steve's OCD isn't as triggered but says he's not 100% happy with it yet!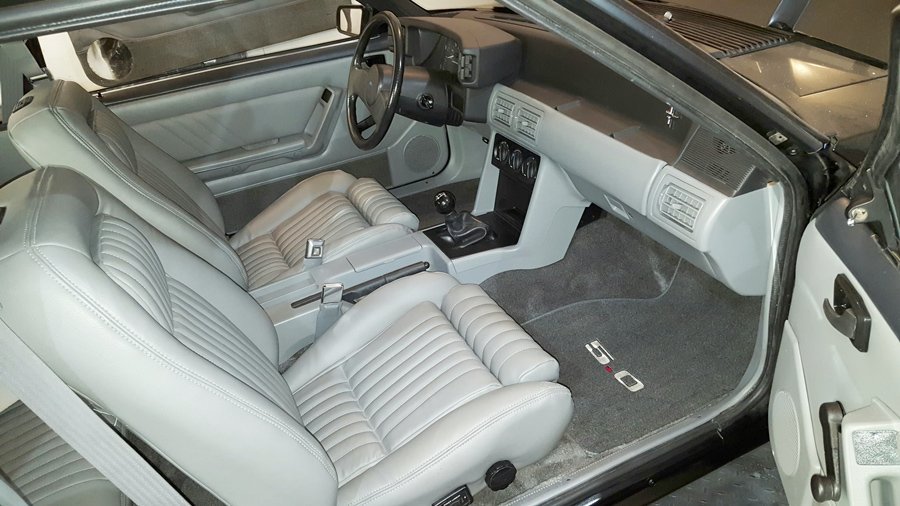 Engine Bay
The engine bay needed a massif cleanup so Steve pulled the engine and spent countless hours restoring this to factory spec. Of course one of the frame rails had started to rust out so it was opened, gutted and fixed up properly as it was from factory. It doesn't show it has been fixed as the rust wasn't real bad in the first place.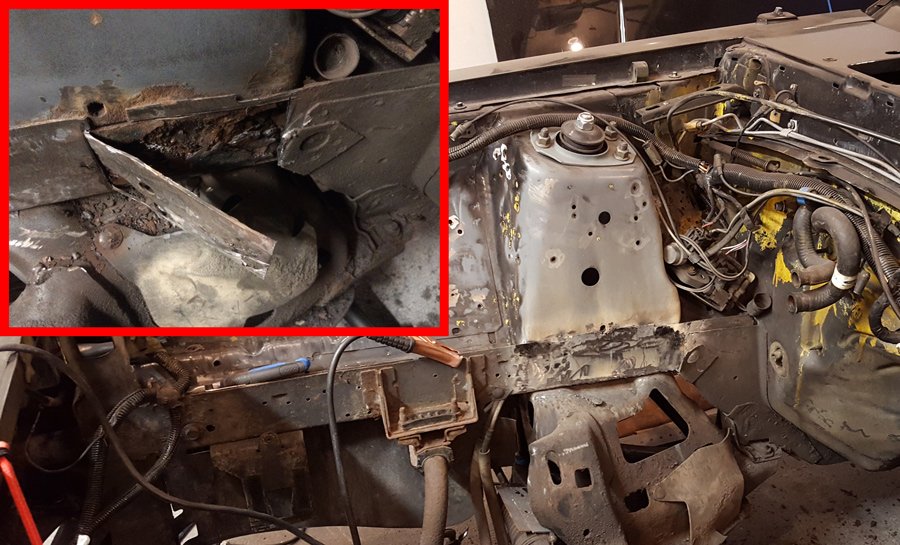 Rust is all gone, ready for prep and paint now! Cleaning the yellow waxy rust-proofing was probably the biggest pain working on this notchback but well worth it!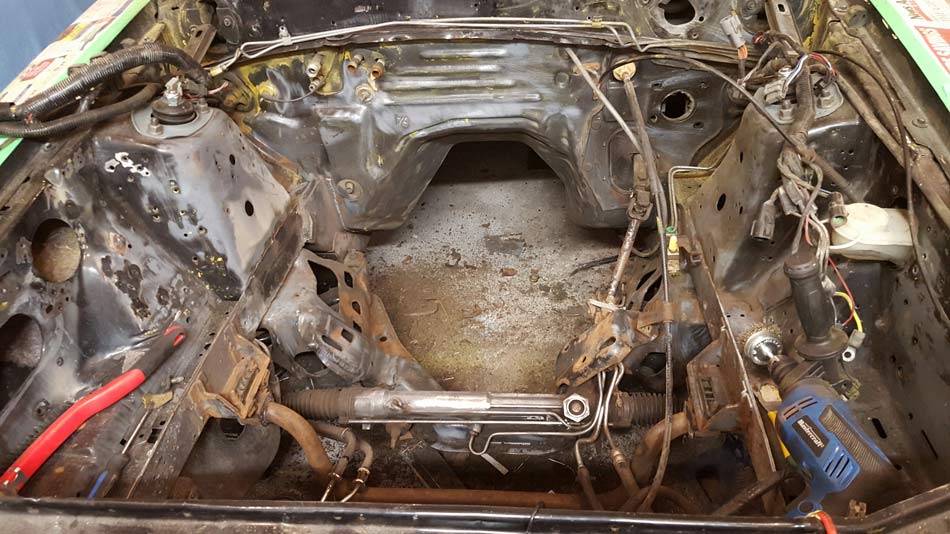 Let's take a short break to celebrate "Built not Bought" 🙂 

Painted up and ready for the old pushrod 302!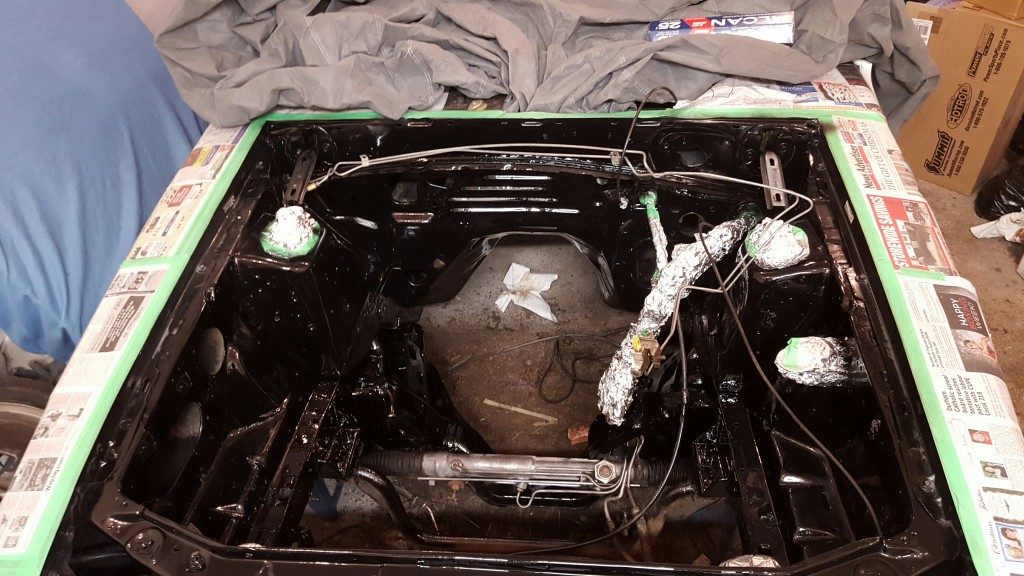 As it sits today. The engine was all cleaned up, every nut and bolt was either replaced or cleaned up. Nothing was left as "old" on this. Everything that was factory on this car is working, even the smog system. Steve removed the custom / dealer installed AC unit (wasn't standard Ford product). This notch is a factory radio delete, tape delete, no option coupe. Sort of like an SSP but sold in Canada which is kind of strange.
Suspension and 5 lug
The only real way to get better brakes and wheel selection is to go 5-lug. Steve went with the SN95 axles & spindles, Cobra brakes and 2014 GT Premium 18×8 wheels. He's not 100% happy with the offset but is saving up for different wheels to better fit the 275's in back and perfect the "stance" / backspacing.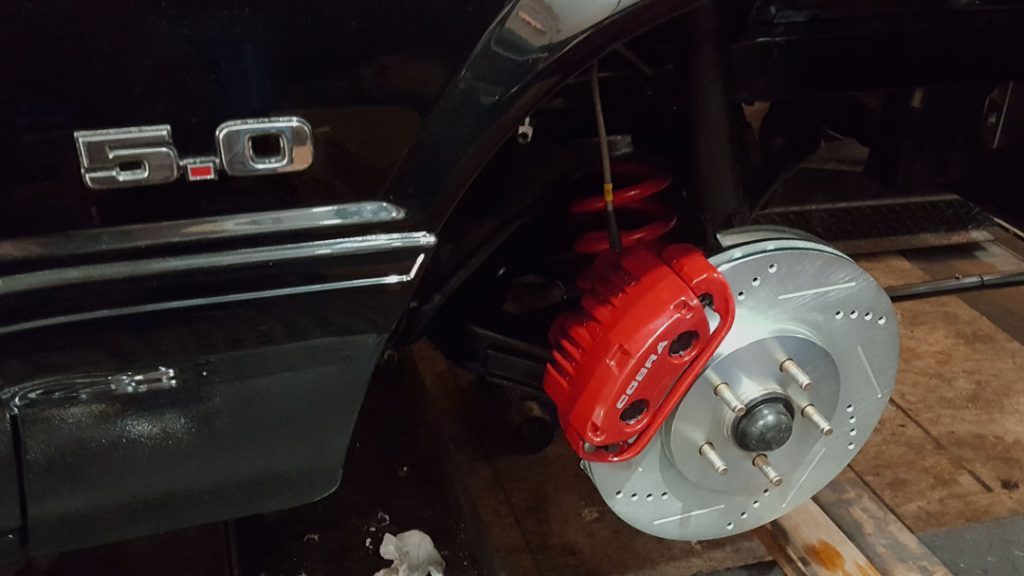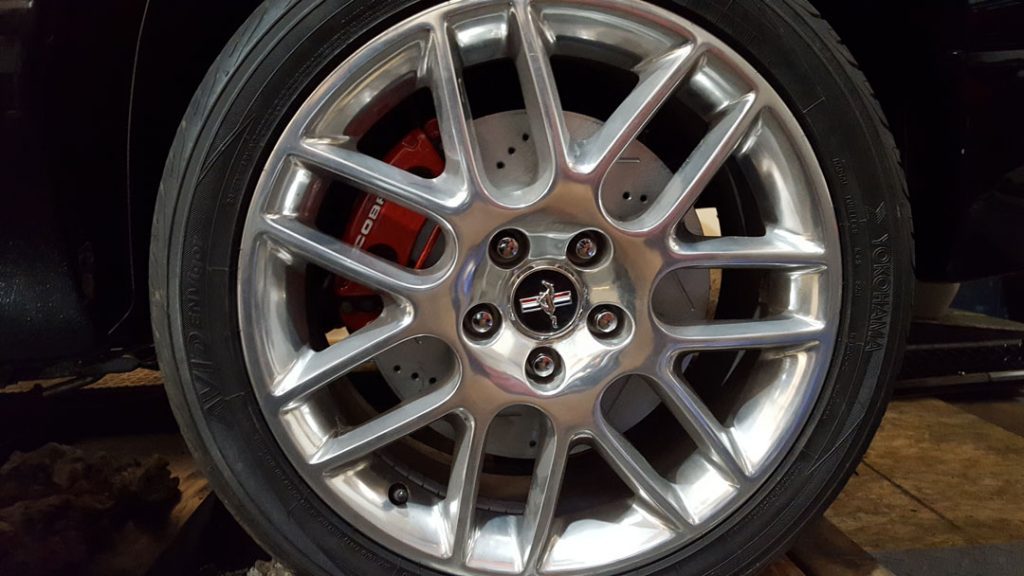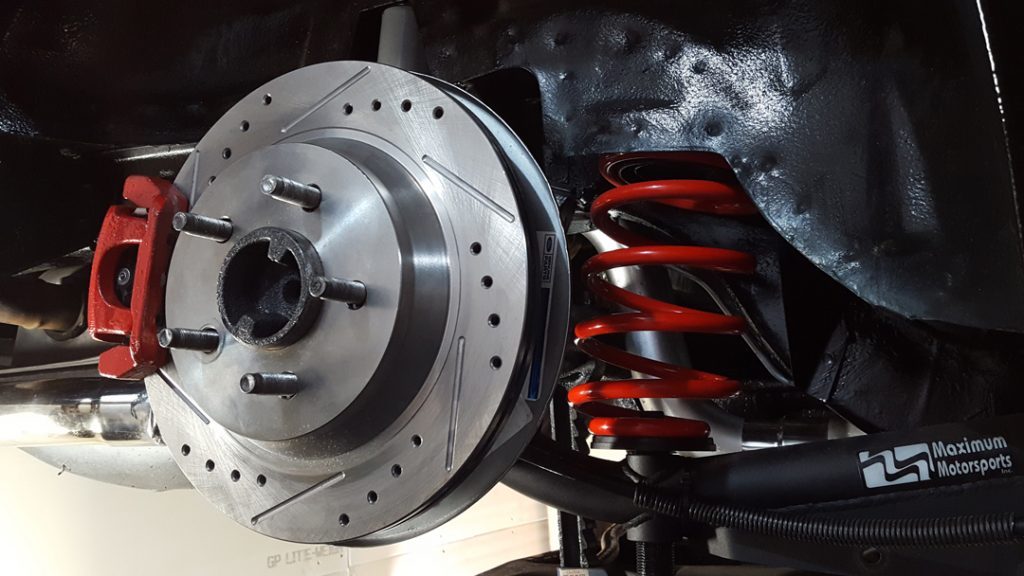 The suspension is pretty simple, this notch is equipped with the Eibach Sportline springs, MM adjustable lower control arms, FRPP upper control arms, basic replacement shocks/struts and Hotchkis caster/camber plates (currently on the work bench waiting installation).
Engine / Transmission
Steve went through many different ideas from stroker kits to Coyote Swaps and even thought about a Zombie222 style electric conversion for a brief period! But figures, part of his love for the foxbody Mustang is that old-school pushrod 302. So he's staying true to the little Windsor power plant. He just exchanged the stock T5 for a Z-spec T5 and aluminium driveshaft as well as 3.73 gears yet to be installed.

The 5.0 remains basic, like how you'd modify a 302 back in the mid 90's. It has ported and o-ringed heads from a Ford Lightning (GT40), B-303 cam, 1.7 CompCam roller rockers, BBK long-tube headers, larger TB/Spacer, 24# injectors and larger MAF. Current intake is a ported Typhoon but will soon be replaced with the GT40 tubular to continue with the engine theme. Nothing crazy but this is a pretty light foxbody.

A few minor changes were done to the engine before dumping it back into the Mustang. The old Windsor is cooled with a new aluminium radiator and custom installed electric fan. The engine bay was designed to look as stock as possible. Restoring it to factory with the coil cover, windshield motor cover, air box, wire harnesses, etc… Steve is looking to have all the harness labels reproduced along with the 90's Ford battery labels to complete the "untouched" look, except for the MAF, intake, exhaust, bla bla ba. Stock'ish is the theme here.
The Underside
Steve went a bit mental on the underside of his notch. It was a dirty mess, he must have ate about 10 pounds of grease, rust-proofing and rust. It was a multi-month project working nights and weekend. But you can essentially do anything on this car and never get your hands dirty…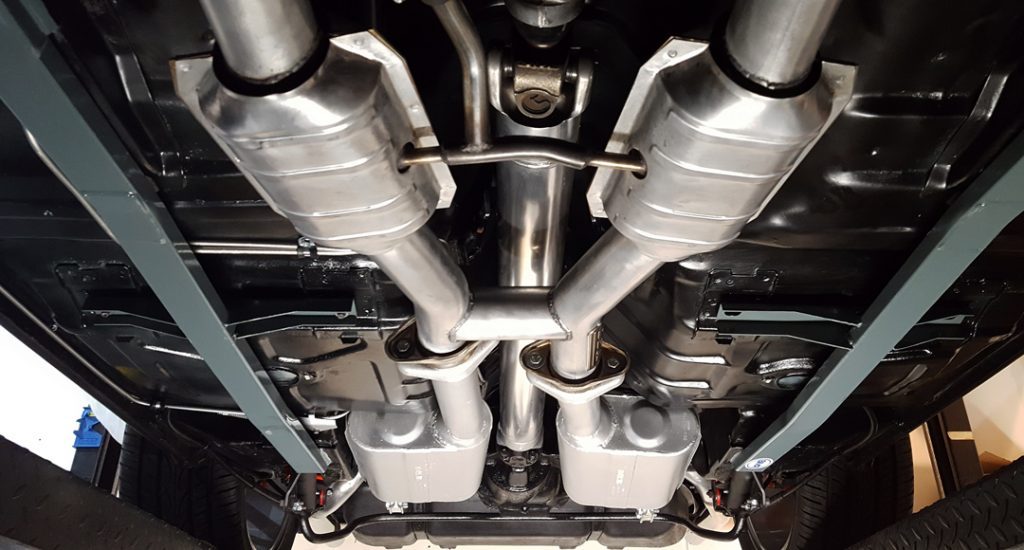 Paint and Other Details
The paint was redone before it was put in storage and years of pigeon poop etched the paint in some areas. Steve installed factory replacement headlights and trim pieces to make the car look more clean. Also added a metal 2″ cowl hood.
Is it Ever Done?
Steve says he's planning on gutting the notch down to the uni-body chassis, bolting it to a rotisserie and properly restoring it. That is, stripping it of all paint and basically making sure it's all done like factory. A complete restoration to appease his OCD level foxbody madness. Steve says he's keeping this fox close to stock so it can be reverted back to factory without too much work. Keep an eye out for updates on Project Divorce!